Tutorial
1. Get started
There are three major fields must be filled out in GOfox web form as shown in Figure 1.
A: Provide data input
You can either (1) type in GO terms or (2) upload GO terms files. Currently two text file formats are supported: Generic and DAVID.
B: Set P-value (or other value) cutoff
You can define cutoff for input values. user can supply determining values such as FDR other than p-values. Specifically, when user choose to upload DAVID formatted text file, user can choose P-value, FDR, Bonferroni or Benjamini as cutoff variable.
C: Select a setting for retrieving intermediate GO terms
You can select one of the three retrieval settings provided by GOfox. Please refer to GOfox publication for detail algorithm. We suggest using "Include Computed Simplified Intermediates" to optimally remove multiple inheritted GO terms while maintaining the minimal hierarchical structure of GO.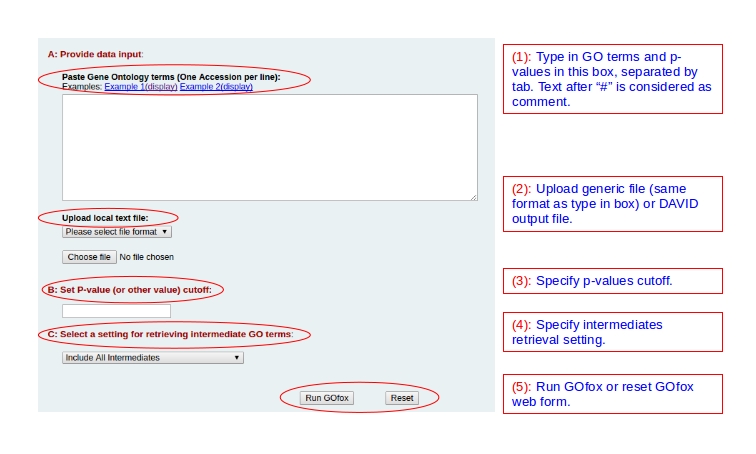 Figure 1
When the input and settings are ready, please click the "Run GOfox" button to proceed. You can also click "Reset" button to reset the GOfox web form.
2. Results
Once GOfox finish processing your request, it will redirect you to interactive display where you can modify the enriched GO tree or click on specific GO terms to learn more about it.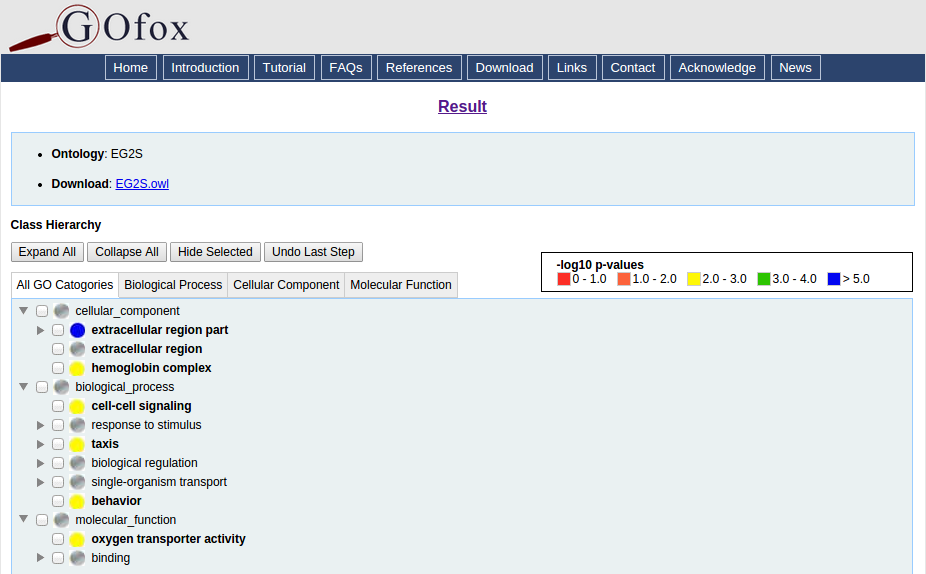 Figure 2
Expand All/Collapse All
You can click the "Expand All" or "Collpase All" button to fully expand or collapse the hierarchy of resulting enriched GO tree respectively.
Colored value display
The circular colored dots are color-coded with their corresponding GO terms -log10 values. You can refer to the color key on the upper right of the GO tree.
Download link
You can also download the OWL formatted result using the download link.
GO term information display
When you clicked on any interested GO term, GOfox will display related informations including definition, IRI, annotations and external linkage to AmiGO and Ontobee. The term will also be highlighted in the tree.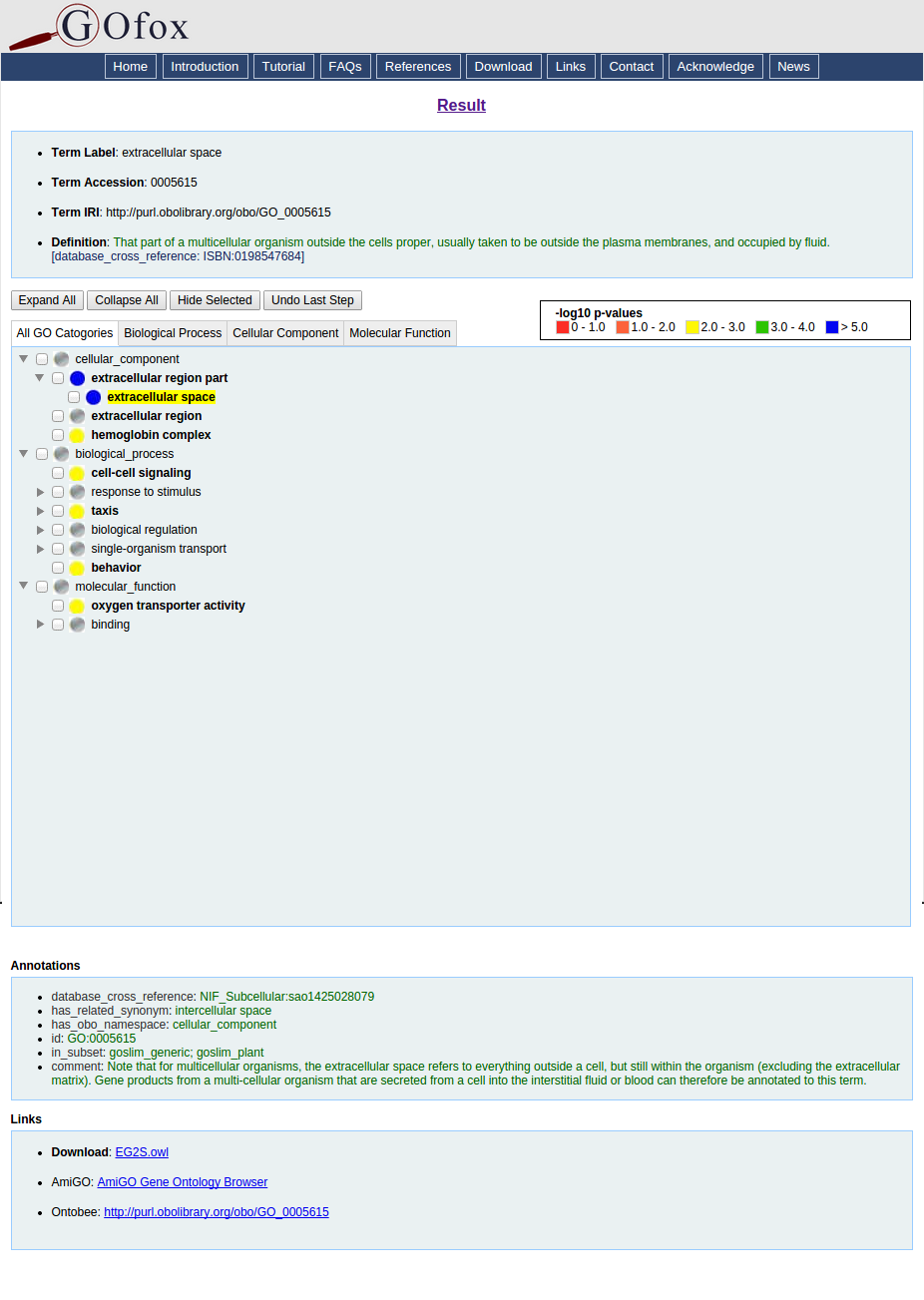 Figure 3
3. Hierarchy modification
You can also use GOfox built-in function to hide unwanted GO terms to further simply the result.
To do that, click the checkbox next to the GO terms you want to hide. Then click "Hide Selected" button to hide GO terms that you just selected.
To undo that, you can also click the "Undo Last Step" button to undo your edit stepwise.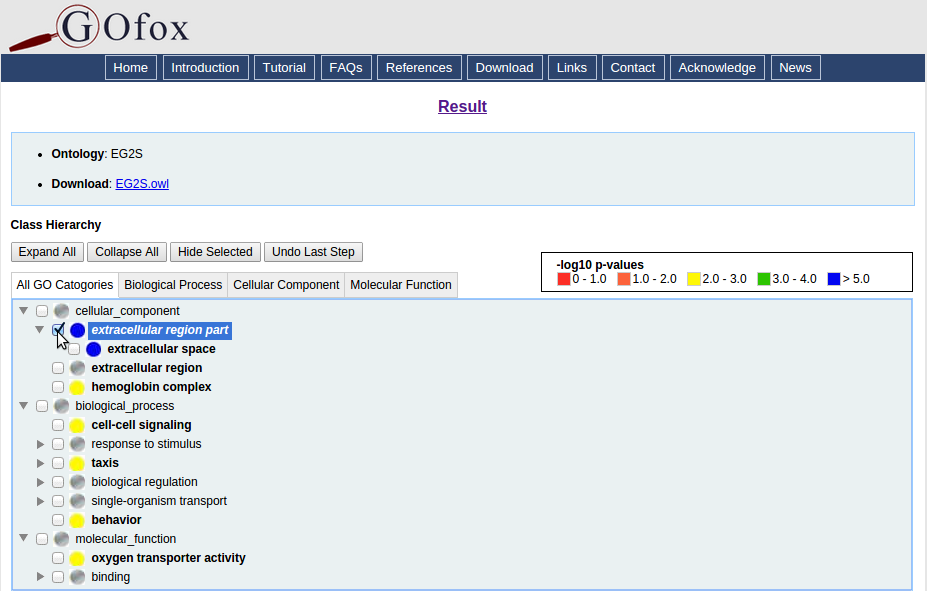 Figure 4